All public parks of Perth are maintained by local government. At Scarborough Beach and Brighton Beach the City of Stirling looks after these free great public parks, grounds and public park equipment.

All public parks are in easy cycling distance from the cycle path along the West Coast Highway.

Public reserve at the southern end of Hastings Street Scarborough



Lakes are a feature of Scarborough parks in the hollow between the beach dunes and Doubleview. Ventnor Street.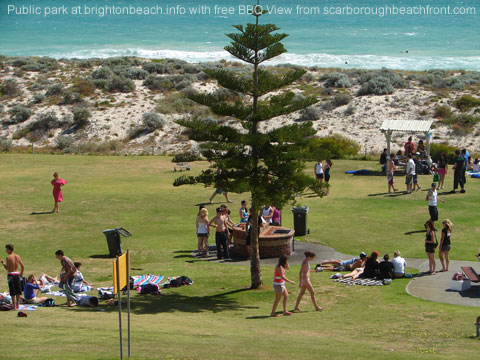 One of many great public parks in northern Scarborough.

Best gardener in Perth serving your garden near Scarborough Beach

Beach park, at the end of the Scarborough to Hillarys Harbour cycle path,
only metres from the Hillarys Yacht Club and beach.
One of several playgrounds just behind the beach dunes. Free gas barbecues, facilities and services are only a few metres away. At night rabbits hop out of these dunes to feed on the lush lawn. Feb'00 I sighted two foxes by the bbq near the Brighton Beach kiosk . Bob tail goannas frequent dune paths. Fishing from the beach is excellent as is wave shape when winter storms drive up sand banks. An old 1930's map shows a planned jetty at Brighton Beach (just south of the Scarborough beach drain) but development takes time to happen here.
Above: Lions Grove, Brighton Beach, protected from the sea breeze by Casuarina trees planted by Scarborough Lions.


Scarborough Lions do volunteer community service.



Scarboro Popularity Ranking
would you like to sponsor a page page?
Please visit our major sponsor
POB 334 Scarborough, Western Australia, 6922

Scarborough - Trigg Heritage walk | Environment | HOME
Top Public Parks