You're invited to post messages about fishing on Perth Beaches including
fishing at Scarborough Beach on the Perth Fishing Forum.
Scarborough Beach Perth Fishing photo of 2016 wins a prize donated by www.fishingperth.fishing.
To win the Perth's Fishing Photo contest, post your prized fish photo to the Boating and Fishing section of Google+ Perth.
Anglers can post up-to once per month, your Perth fishing photos in the Google+ Perth Boating & Fishing photo gallery.
Scarborough, Perth local fishing tips
Check swell with Perth Surf Cam
Herring best mornings, Mid summer to April. Whiting all year. Mostly small close to shore. Taylor are usually fished for from sunset. Drift bottom fishing from a kayak in winter for squid.
Many deep sea fishing charter boats depart from Hillarys Harbour just 8km north of Scarborough. 25 min bicycle ride to Hillarys habour is recommended.
Warm water fish such as flying-fish have been seen late summer. They remind me of night fishing - scooping with oversized butterfly nets from an outrigger canoe outside the reef with the Chief of Aitutaki where I got an IGFA world record for a Humped Headed Maori Wrasse.
Large schools of mullet migrate close to swimmers in summer
Rod benders include harmless sand sharks and stingrays.
All mammals are protected. Common are dolphins, seals and whales in months October to December.

Bag and fish size limits apply. Get your Perth Recreational Fishing Licence here.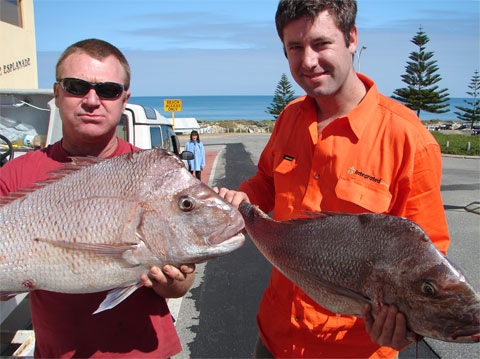 Above my Aitutaki game fishing boat captain Ian with snapper fish caught dawn 24 October, less than 1 kilometre from a Perth Beach boat ramp.Western Australian Salmon were running by Scarborough Beach in April. At sunset you can see Western Australian Salmon swarming near the surface off Perth Beaches. I used to catch salmon with my Dad at the North Mole, Fremantle, Western Australia. Most of his fishing was where now the Marmion Marine Conservation Park is, located 5 km north of Scarborough and Trigg Island.
Map of Marmion Marine Park. The Australian Marine Research Centre:
...
is now where, the community used to light HUGE bonfires on Guy Fawkes' Night.


Protected inside the Marmion Conservation Marine Park which is great for snorkelling, a good way to see which inshore costal water fish are in season off Perth beaches and reefs.
Having lived on a small South Pacific Island for 10 years, non-Polynesian names escape me? Caught November 150 metres off Brighton Beach. Not sure what these fish are but they tasted great and were double header catches by the count of 3 every time. Had to paddle my sea kayak in before it sank with the load of fish.


My Aitutaki game fishing boat. I preferred lure troll fishing from my yachts for game fishing outside the Aitutaki lagoon and GTs in the Aitutaki lagoon, especially with my regular fun fishing mate Dave Lange (IM):

Ciguatera poisoning risk is why I didn't eat my world record

Squid and jigging for swarms of ..

.. yellow tail Scaly Mackerel

Goat fish
Another great day
of fishing in Perth.
Perth Fishing Charters
Sell bait & fishing tackle in Perth?

Your Linked Banner Ad Here
for < $1 per day.
fishing@fishingperth.com

May sea kayak fishing Perth, 1km off Brighton Beach. I pulled up my live bait when a small 2m shark swam by. Offshore breeze, and sunny.

Advertise your Perth fishing tackle shop here.

Your Perth fishing charters advertisement here.

Scarboro Popularity Ranking
would you like to sponsor a fishing page?

Accommodation Near Fishing Holiday Destinations

Video Your Perth Fishing Charter

Ben publisher of THE Perth website and the


Scarborough website, sails to Perth's Three Mile Reef near Scarborough for spearfishing.
Fishing for new clients?
Try web marketing
POB 334
Scarborough Beach
Perth
Western Australia